Fund Managers 2016 -18
Aishwarya Viswanathan
---
Aishwarya graduated from VJTI, Mumbai (2013) with a Bachelor's degree in Information Technology. Later she joined J.P Morgan Chase as a Technology Analyst in their Investor Services department. It was at J.P Morgan she developed a keen interest towards finance as her work majorly involved dealing with the derivatives market. Here she led the development of trade verification system across multiple security markets and creation of models for processing varied assets requested by the clients.
During her 3 year stint she got the opportunity to work with different lines of business at J.P Morgan. Here she was also recognized by the Global CIO of the company for her contribution towards improving the performance of trade settlement and securities lending system. To further pursue her interest in finance she completed the CFA Level I exam in June 2016. At Credence she covers the Energy and the FMCG sector with keen interest in Oil & Gas sector. She is particularly interested in the key macroeconomic events that affect the global economy. A wanderer, her interests are music, dance & recently squash. She is trained in Carnatic Singing
Aishwarya shall be joining the Accenture Strategy Management for a two month internship starting in April 2017.
---
Rounak Khemka
---
Rounak is a qualified Chartered Accountant and Company Secretary. He has also completed his graduation from St. Xavier's College, Kolkata with Marketing as specialisation. Rounak has worked for 3 years as a Senior Manager in the Financial Planning team of Reliance JioInfocomm Ltd. He was responsible for the development of Financial Plans for 9 Telecom States in the Eastern Region. He was promoted to become the youngest Senior Manager in Reliance Jio's East Finance team and was awarded highest performance ratings consistently. Rounak takes keen interest equity market analysis and macroeconomic interactions. At Credence, he follows the BFSI and FMCG sectors with a keen interest in the Telecom sector as well. Driving and travelling are his hobbies. Rounak will be joining Brand Capital for a 2 month internship in April, 2017.
---
Sujit Emmanuel
---
Sujit is a Mechanical Engineering graduate from BITS Pilani with two years of consulting experience with Bain Capability Center. Having worked on 50+ assignments across sectors such as Telecom, Technology, Retail and Financial Services, he has developed strong analytical and critical thinking skills. Telecom continues to be the sector close to his heart and he loves discussing and writing on this topic. As part of Credence, Sujit is responsible for covering the TMT and Automotive sectors. A penchant for new experiences and picking challenging tasks is what drives him. Though they have sometimes landed him in difficult situations, he counts on his "good" sense of humor to get out of them. A travel enthusiast and an avid reader, you can find him many a times lost in his own thoughts.
---
Shikhar Kohli
---
Shikhar is a graduate of Netaji Subhas Institute of Technology with a Bachelors degree in Information Technology engineering after which he worked at the RnD division at Adobe Systems. He worked on some well-known software products such as the Acrobat Reader and Photoshop. It is at this time that he was exposed to investing in equity markets. Shikhar is passionate about macroeconomics and keenly follows geopolitical news. He currently follows the automobiles and logistics sectors, with a keen interest in energy and technology stocks.
He is an avid reader and also enjoys playing tennis and table tennis. Shikhar will be joining The Boston Consulting Group for a two month internship starting in April 2017.
---
Saumya Kothari
---
A
commerce graduate from Devi AhilyaVishwavidyalaya, a qualified chartered accountant and CFA level III cleared, Saumya is deeply passionate about stock markets, investment management and macroeconomic developments. He completed ca in 2011 after securing air 38 in ca pcc and securing 1st position in Indore in ca cpt. He has more than 4 years of experience at Goldman Sachs in the merchant banking division in private equity fund accounting. Working as an analyst at Goldman Sachs he managed activities for over 25 PE funds. With primary focus on real estate funds, he has gained a significant understanding of real estate products. He acted as a single point of contact for a $300 million US real estate PE fund and along with the team handled funds worth billions of dollars. During his time at Goldman Sachs he also interacted with the Federal Reserve and Bureau of Economic Analysis (BEA) in United States. Post receiving "exceeds expectation" rating consistently, he was promoted to an associate at the age of 24, becoming the youngest ever in the team to achieve the feat. Before joining Goldman Sachs he pursued his articleship at Bafnajain& Co. for 3 and half years where, over the course of time he lead the project finance, taxation, and government audit divisions. He was also awarded with a letter of appreciation for managing the sarvashiksha abhiyaan audit, becoming only the second person to receive the award during his 3 and half year period. At Credence he is covering BFSI and cement sector. Saumya shall be interning with JP Morgan for 2 months in their fixed income trading and sales division in April 2017.
---
Parul Laddha
---
Parul i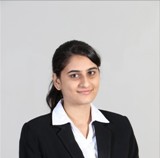 s a commerce graduate from St. Xavier's College, Calcutta with a specialisation in Finance (2016). She has also pursued the Chartered Accountancy course whereby she has successfully completed the Integrated Professional Competence Course. She has worked in the Financial and Healthcare sectors whereby she worked on audit and tax advisory engagements. She takes a keen interest in tracking and analysing Macroeconomic trends and crises that affects the global economy. At Credence, she is covering Indian BFSI and FMCG sectors. She is passionate about singing, dancing and reading. Parul will be joining JP Morgan for a two-month internship starting in April 2017.
---
Charvi Pandey
---
Charvi graduated from IIT Delhi in 2014 with a Bachelor's degree in Civil Engineering. After graduation, she went on to work with Citibank as a management associate, in their Treasury and Trade solutions business engaged in fee-based products and catering to working capital needs of corporate clients. The 2-year experience at Citi gave her the opportunity to work with multiple clients across e-commerce, financial services and Telecom sectors to structure their cross-border and domestic working capital transactions. Diverse projects across multiple industries have enabled Charvi to gain an expertise in business growth strategy and development, process automation and product development. She was awarded by Citi India CEO for outperforming her deliverables and was given the highest rating for consistent performance. At Credence, she covers the Cement and TMT sectors with a keen interest in e-commerce. She has a knack for tracking financial markets along with key political and economic developments. A badminton enthusiast, she enjoys reading and travelling.
Charvi shall be joining Fidelity International for a 2-month internship in April 2017.
---
Arvind Kalyan
---
Arvind Kalyan is a graduate from IIT Madras. He is also an FRM charter holder and has cleared all 3 levels of CFA. He has three years of experience in the financial services sector - one year as an Investment Banking Associate at Khetal Advisors, a mid-market investment bank; and 2 years as an Equity Research Analyst at JMN Investments. During his stint as an investment banker, he aided tech based startups in raising funds from VCs and PEs. As an equity research analyst, he worked on various research reports in the medical devices sector for investment banks based out of the US. At Credence, he covers logistics and agri-inputs sectors. He tracks the financial markets and analyzes the impact of political and economic developments on the markets.
Arvind is passionate about sports. He represented IIT Madras and IIM Lucknow in football and athletics and won over 20 medals. He enjoys travelling and has recently developed an interest in trekking.
Arvind shall be joining Shannonside Capital, an Irish hedge fund, for a 2 month internship in April 2017.
---
---